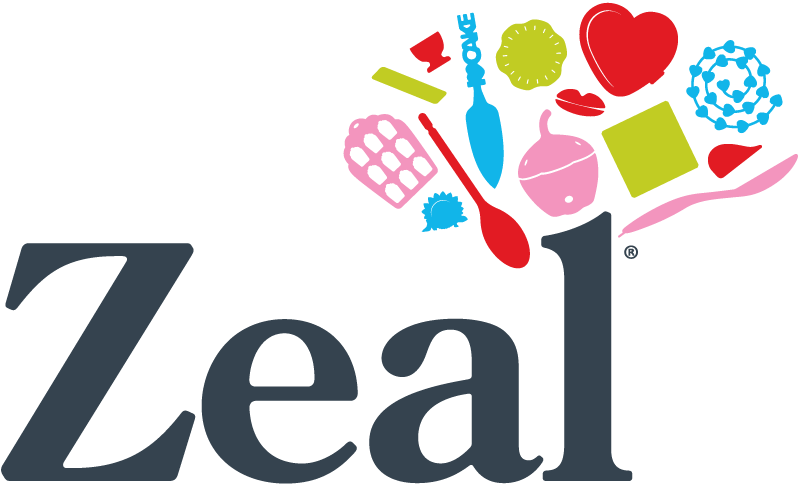 BACKGROUND
Zeal design and develop innovative, high-quality kitchenware that makes food preparation easier, smarter and more enjoyable.
The company has been involved in the cookware industry since 1975, creating products that are not only fit for purpose, but use the best materials with a touch of the unique Zeal flair.
CHALLENGE
Zeal wanted new packaging for its products that was innovative, stylish and fun – something which would showcase the brand and stand-out among the competition.
Given the unique and interesting shape of the products, this was no mean feat!
The packaging had to communicate Zeal's superior quality over cheaper similar options available from their competitors. It needed to entice customers to want to pick up and handle the products, but without the packaging become worn.
Zeal also wanted to increase sales in certain products and attract more sales in the gift market.
SOLUTION
A creative brief like this always starts with industry and consumer research. Our in-depth analysis revealed some key points that gave us a good starting point for the packaging design.
We wanted to avoid over-packaging, both due to the environmental impact and because our research revealed that customers like to interact with products as part of their buyer journey.
We therefore chose materials that are durable and eco-friendly. The new design was simple yet eye-catching and incorporated high-quality photography which highlighted the benefits of the product.
The new packaging was complemented by fun and engaging counter displays that turned everyday household items into desirable gifts and impulse purchases.
RESULTS
Sales increased as a result of the new packaging design. Products became more appealing as gifts, which opened up new markets and territories for the Zeal range.
By making the products appear more fun, through cleverly designed packaging, more outlets were prepared to stock them.
Together with the eye-catching counter displays, this led to increased sales through impulse purchases.
New lines have been added on the back of these improved sales, representing overall growth for the business.
Increase in outlets taking stock
Sales increased through impulse purchases
Global markets and territories for the Zeal range
"EBY have a real understanding of our business, whether they're creating stunning catalogues, helping to position our products in the market place or finding a clever way to package our designs.. they are our go to agency."
James Bartleet – Managing Director – Zeal