There are an awful lot of ways to confuse a client when you start talking about brand and identity. As an agency, we might be obsessed by their differences, but often, our clients don't really care about the semantics.
While this blog implies that these concepts are different, and they are, we always explain them as working together as the strategy and visual execution of the strategy – it's hard to have a strong identity without brand strategy to anchor it, and you can't have a great brand without a visual identity.
So, after all the hard work researching, pulling out the insights, doing consumer profiles and getting to a value proposition and strategy, why do so many businesses jump straight to the logo and go forth into the sunset without a visual identity?
The logo
Don't get us wrong, the logo is a vital visual representation of your business and brand. It separates you from competitors, creates a professional visual presence and links everything together. So we will always give its development careful consideration, whether through focus group testing, workshops or simply by immersing ourselves in your business in the cause of its development. But a logo on its own is not a brand and a brand will not come to life without a visual identity.
If nothing else, don't skip doing the visual identity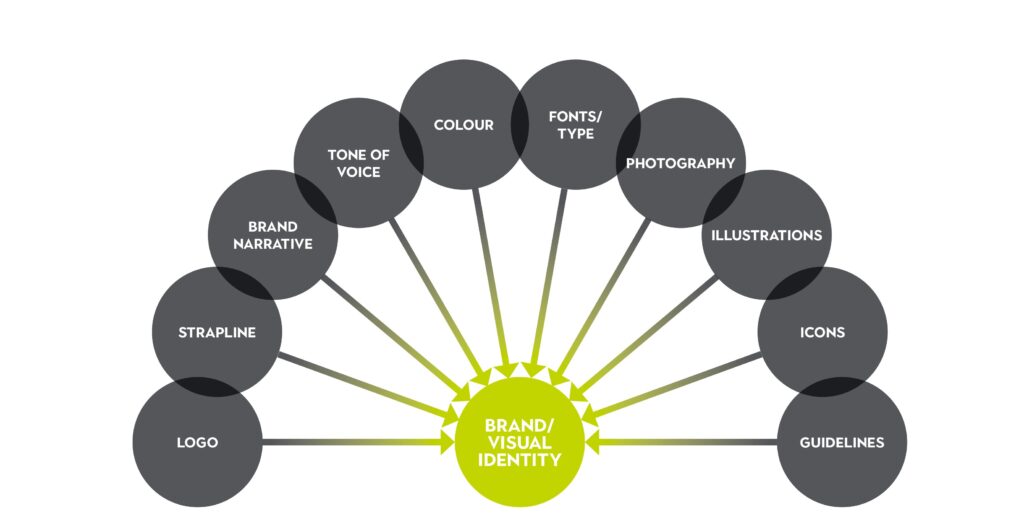 Even if your organisation does not have the resources to create a full strategy piece and a set of guidelines, that if printed would make an immoveable doorstop, it is vital that things don't just stop at the logo when taking a new brand to market. The identity, (see below) is what people see as the embodiment of who you are. It also stops internal stakeholders, partners and suppliers doing 'their own thing' by providing a framework from which to produce all your marketing collateral.
Adding value
We often extend visual identity guidelines to include toolkits with basic templates or visuals of key marketing pieces to make it clear how all the identity's elements come together and should be applied. Clients often don't put aside enough time to get to grips with a brand's new Tone of Voice (TOV). This may sound like something 'fluffy', but it's a HUGE element of any visual identity. Think of the online betting company Paddy Power and its close-to-the knuckle humour and Lloyds Bank's By-your-side emotive advertising created to address issues around mental health – the difference is TOV.
For this reason, we ensure we provide sufficient training to internal teams, partners or other client suppliers so everyone plays a part in developing a cohesive, distinctive, memorable, professional brand.
The litmus test
Take Chanel as one example. You can say without looking at their brand that they want to make you feel like it's sophisticated, elegant, understated, yet daring. They don't want you to mistake them with low-cost market perfumes. That's why they have a simple website, an iconic logo and use black and white very purposely and confidently. It's a perfect combination of brand and visual identity where you are able to recognise the brand even if you don't see their logo.
Applying this approach to your business
While it's certainly easier for larger companies like Apple, Starbucks, McDonald's etc. to embrace best practice, creating a 'system' that represents your missions and values is something that can be flexed and sized to companies of any size and sector, as long as we are able to think further about your identity than 'just' a logo.
Having consistency is essential for your business and this is what a well thought out visual identity and guidelines will give you – recognition.
To bring this point home, gaining the recognition of your visual identity can manifest itself by simply spotting a blog post and instantly recognising it's from you because of the fonts, colours, logo, photographic style or other graphical elements. If a visual identity is in place and applied, all these components help to create an experience for your customer.
In every case, we have found that this relatively small investment saves huge resources and headaches in the future and ensures that the work started at the strategic brand level comes to life as you envisaged.
Are you more than a pretty logo?
If the answer is yes, then we can help you create a framework (i.e. a visual identity) that allows your business' personality to shine through. We'll also create consistency around your brand and develop it in a way that sets you apart from your closest competitors, even if your services or products are similar.
Ready to chat about your brand? Get in touch here.