Harness the power of promotional merchandise.
Exhibitions and conferences are one of the best ways to help brands reach out and connect with their target audience. From building networks and generating new leads, to gaining insight into the current market, competitor strategies and new trends and shifts, a physical presence at events helps brands establish a competitive advantage. However, in a post-pandemic world, where the pressure to gain as much new business as possible is high, outdoing your competitors in a very small space of time, can prove a struggle, particularly at busy events.
So how can you become the competitor to beat the next time you are exhibiting at a show or conference? The key to success is to ensure your brand's presence and message reaches out to prospects, not just on the event days, but also in the days, weeks, months and even years after the event. This building of brand recall can be achieved through the use of promotional merchandise. According to ASI Central's statistics, worldwide, promotional products are rated as the most highly regarded form of advertising. With newspapers in second place, radio in third, magazines in fourth, television in fifth, the internet in sixth and mobiles in seventh.
It may come as a surprise to some, but a typical household owns on average, between 28 and 34 promotional products at any one time, with 40% of consumers typically keeping their promotional products for more than 10 years! So why is this? When a company's branded merchandise becomes a valued part of everyday life, it's a welcome essential.
How does this help a brand?
When a promotional item is considered an "essential" item, it will always remain close to hand, representing the brand each time the consumer uses it. For example, a water bottle with your company's logo on it, may get noticed throughout the day, each time its owner has a drink, strengthening brand awareness. The more useful and durable a promotional item is, the longer it will be able to market a brand, ultimately reaching its target audience.
During the event itself, drawing your target audience to your brand, away from your competitors is key. With the help of your highly desirable promotional collection, the power of the merchandise will then be unleashed as it is dispersed, building brand recall with an unlimited audience.
What merchandise should I choose?
The more insight a brand has into its prospects' way of life, the more it will be able to select the most suitable and relevant promotional items. For example, now that Generation Z, the first generation to be brought up in the technological age, are infiltrating exhibition centres, promotional merchandise has been revolutionised and classic retro memorabilia such as the humble logo bug, plastic mouse mat, or coaster, have been replaced with everything from water bottles, earbuds, cooking utensils, bamboo food boxes, bottle openers and lanyards, to essential oils and diffusers, gym equipment and sportswear. With Generation Z supporting and representing a new age of environmental and social responsibility, they are driving change by making greener choices and selecting eco-friendly products, made from recyclable materials. Not only that, with Generation Z's digital-led routines, their relentless affinity to incorporate and rely on technology, can lead to a highly stressful and exhausting lifestyle.
Bearing these factors in mind, brands are constantly breaking the mould, re-imagining more innovative product ideas for their branded giveaways. From luxurious items to provide a more mindful existence, such as bath products, spa products or massage sets, to gym wear, yoga mats and outwear attire for the body-conscious gym goers. Higher quality, sustainable merchandise is permeating through, as more considered promotional gifts.
In terms of longevity and popularity of the most popular promotional items, ASI Central has some more information that can aid decision-making. See below: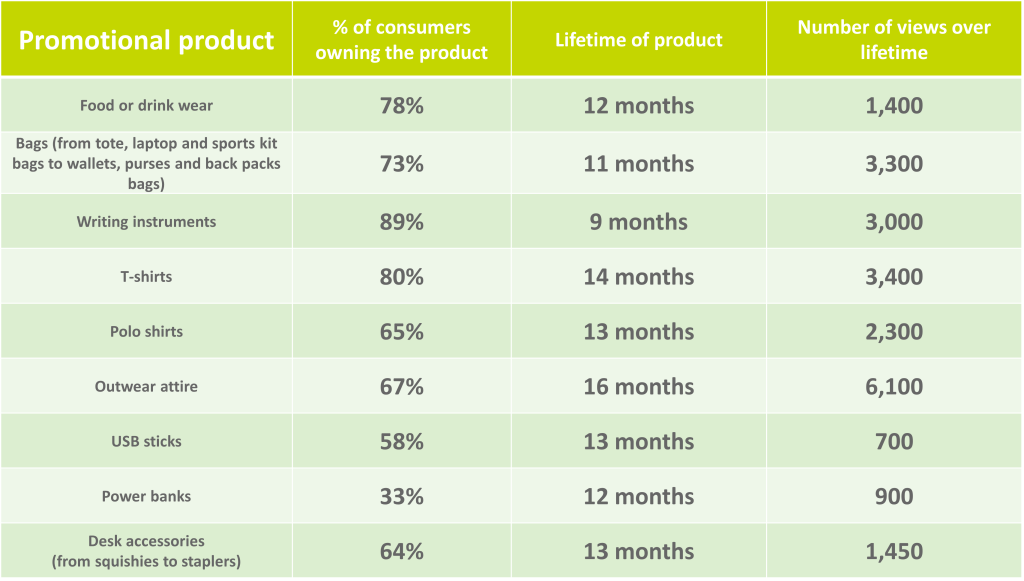 Whichever product/s you do end up using, it's worth noting that 85% of consumers remember advertisers who provide apparel merchandise.
As well as considering the recall, usefulness and creativity of a promotional item, it's also important to plan your promotional purchasing, so that your merchandise is ready for your big day without a hitch. (The worst thing you can do is to turn up at the event with nothing to offer after missing your deadline, whilst still have to pay for the products), so here are our top tips below:
Tips to consider when buying promotional merchandise
Ensure your products are highly desirable: Try as much as possible to tick all the boxes for your respective audiences. Opt for environmentally friendly hard-wearing merchandise, that is either a hi-tech, or an intriguing novelty item, that can stand the test of time, so that your products get noticed.
Prepare in plenty of time: Don't leave purchasing your promotional items until the last minute. Typically, we would advise getting your promotional items delivered at least a month or two, before your event date. (Give enough time for shipping issues, delays in customs and delivery, particularly when strike action is also taking place.)
Consider the lead time: As well as delivery, you also need to take into account how long production will take. Different merchandise will have different lead times, so plan accordingly and make sure you allocate extra time to provide a buffer if needed for any setbacks throughout the process.
Work in tight communication with your contact throughout the process, to ensure you can respond to any changes quickly to prevent delays.
Now with another potential recession looming, giving yourself enough time to plan and allocate a budget well in advance is also crucial.
Summary
EBY has over 20 years' of experience, specialising in helping to capture our clients' brand's message, making sure it stands out to their target audience, be it at an exhibition, golf day, trade show, corporate anniversary, or a brand launch.
Through our expert promotional and graphics teams, EBY is able to provide 360° support for your promotional event. From a diverse promotional inventory, creative ideas, and design through to graphic creation for entire stands and even the common pull-up banner. EBY will elevate your brand's presence above and beyond the competition, to ensure you stand out as the competitor to beat, making your brand the envy of all the competing exhibitors. To give your brand the wow factor at your next promotional event, then please get in touch to arrange a call..